Pangrok Sulap


Live and Survive, 2019

Relief Print: Woodblock, Fabric
140 x 280 cm
Artist collection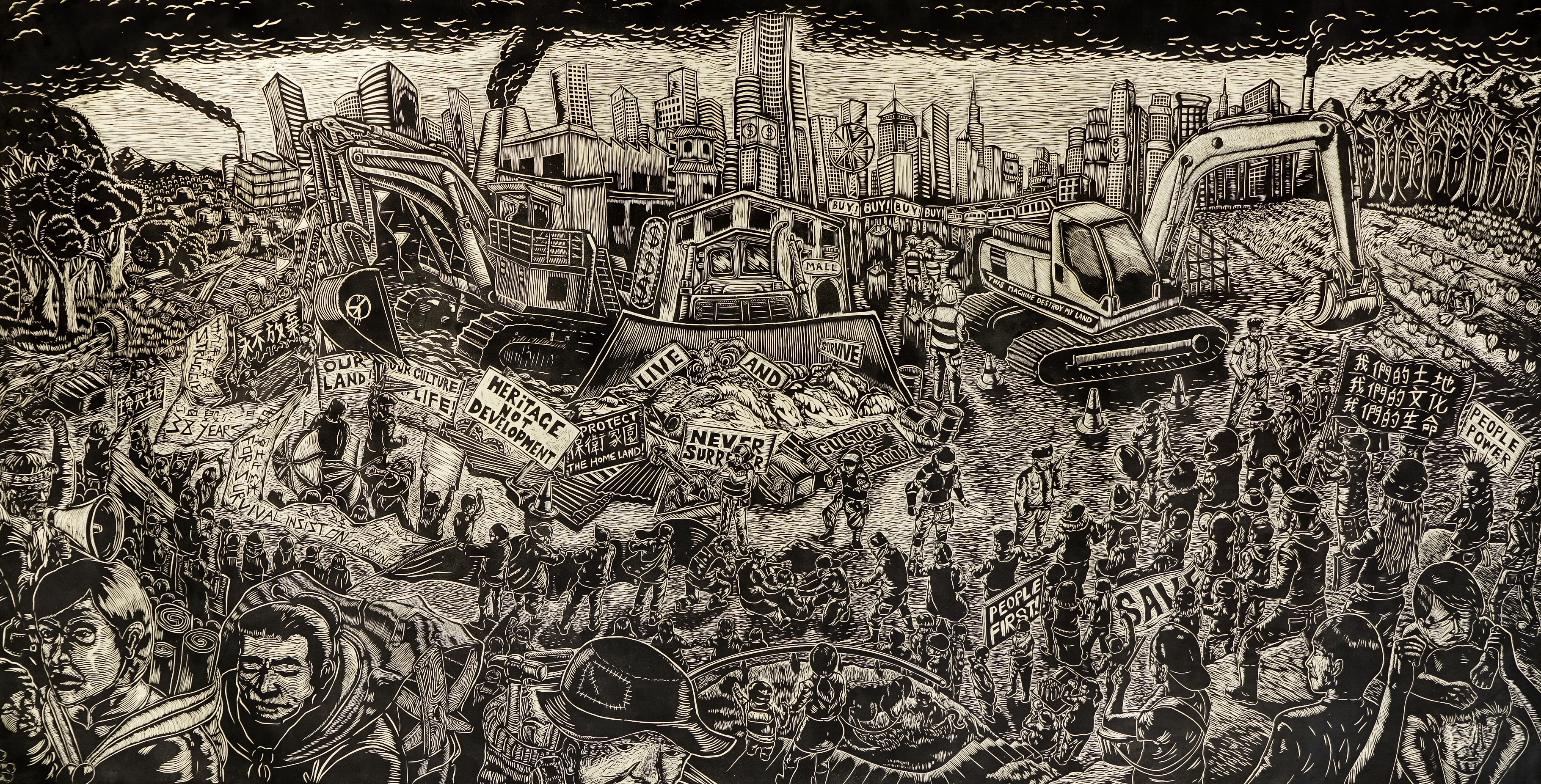 About the Artist
Pangrok Sulap is an art collective based in Sabah, Malaysia. "Pangrok" means "punk rock", while "Sulap" refers to a hut used as a resting place by farmers. Established in 2010, the collective consists of artists, musicians, and activists. Inspired by the art collective Taring Padi, whom they came into contact through the Indonesian punk band Marjinal, Pangrok Sulap began creating woodblock prints to address and depict social issues. Their recent exhibitions include
Blaze Carved in Darkness: Woodcut Movements in Asia 1930s-2010s
(Fukuoka Asian Art Museum, 2018),
Asian Art Biennial
(National Taiwan Museum of Fine Arts, 2017),
Sun Shower: Contemporary Art from Southeast Asia 1980s to Now
(The National Art Center, Tokyo & Mori Art Museum, 2017), and more.
Pangrok Sulap's Facebook ︎︎︎


About the Exhibit

In spring 2019, Pangrok Sulap was invited by the Centre for Heritage Arts & Textile to visit Hong Kong. During the residency, they visited Chi Kee Sawmill & Timber in Kwu Tung, Sheung Shui. They sought to address the impact of land development on cultural preservation with printmaking. Chi Kee has 70 years of history and is one of the few remaining industries of its kind in Hong Kong, providing raw materials to other industries. In 2007, the government's development plan of the northeast New Territories has made eviction inevitable for the sawmill. In Pangrok Sulap's banner, sharp bulldozer blades raze farmlands, hollowing out our city with the wheels of development. The collective is not only a group of printmakers, but also musicians. When creating this print, they performed original folk music at The Mills and invited the public to dance on the inked woodblock to print.